Kansas Health Profession Opportunity Program (KHPOP)
Do YOU...Want a well-paying, in-demand health care career?
Do YOU...Need assistance in removing barriers to pursuing education and training?
Are YOU...Currently a TANF (Temporary Assistance for Needy Families) Recipient
Are YOU...Currently a SNAP (Supplemental Nutrition Assistance Program) Recipient
Is so...You may qualify for the Kansas Health Profession Opportunity Project (KHPOP)
KHPOP will help pave the way to careers like:
Biological Technician
Certified Nurse Aide
Dental Assistant
Dental hygienist
Home Health Aide
Licensed Practical Nurse
Medical Assistant
Medical & Clinical Lab Technician
Medical Records & Health Information Technician
Medical & Clinical Lab Technologist
Medical Transcription
Nursing Assistant
Phlebotomist
Pharmacy Technician
Physical Therapy Assistant
Radiologic Technologist
Registered Nurse
Occupational Therapy Assistant
You may be eligible to receive...
Interest & skill assessment, career coaching and mentoring
Child care & transportation assistance
GED & basic skills enhancement
Customized training
Financial assistance for training and education
More information on the Kansas Health Profession Opportunity Project, visit your local workforce center, call (877) 509-6757, or visit https://www.acf.hhs.gov/ofa/programs/hpog
Helpful Information: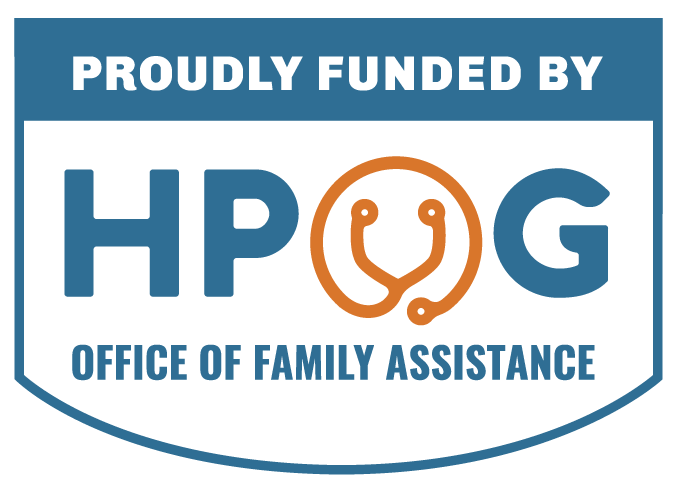 This document was supported by Grant 90FX0047-01-01 from the Administration for Children and Families,
U.S. Department of Health & Human Services (HHS). Its content are solely the responsibility of the authors and
so not necessarily represent the official views of HHS.
HPOG is a study funded by the federal government which is being conducted to determine how these training
opportunities help people improve their skills and find better jobs. During the study, all new eligible applicants
will be selected by lottery to participate in these training opportunities. Not all eligible applicants will be
selected to participate in these opportunities.